Hi this is Dani, otherwise known in the digi-world as NotAVampireLvr. This week to celebrate Kat's birthday, I'll be hosting a brag book exchange using Kat's new freebie kit, Polka Dot Party!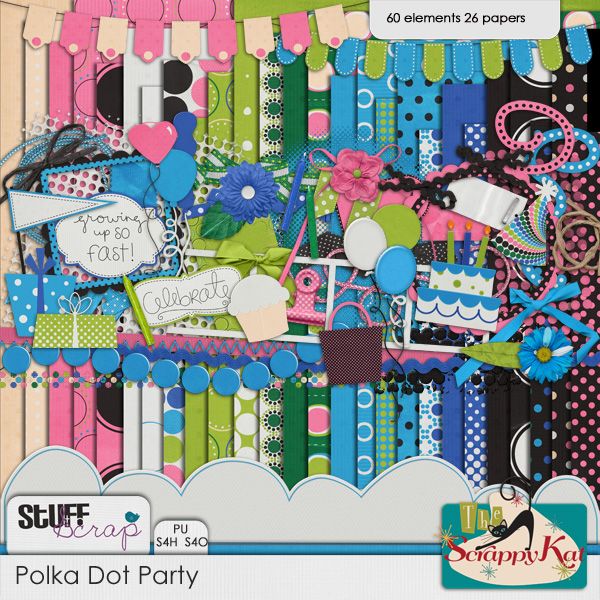 This kit is just so fun and I thought a brag book page exchange would be perfect so that we can all have some ready-made brag book pages for your next family birthday party.
Guidelines:
Pages should be created and saved at 5" x 7" and 300 ppi, landscape or portrait is fine.
Brag Book Pages must be designed with Polka Dot Party or another current kit designed by The Scrappy Kat.
Please save them in .png format.
Brag Book Pages must have minimal writing on them. Please leave off any titles or journaling or any wording that would limit the use of the page in any way.
Please name your files as follows: yourname_kitname_bb.png.
As an example, mine would be
NotAVamp_PolkaDotParty_bb1.png
If your email does not support larger attachments, you have a few options:
Upload it to a place like mediarfire or dropbox (those are the two I'm most familiar with and can assist with) and email that link; or try an email account that allows larger attachments like g-mail.
Please upload your brag book page (preferably complete with photos, so we can enjoy seeing a completed layout) in YOUR gallery and The Scrappy Kat gallery.
The challenge begins today. To participate I need all layouts to me by Sunday, March 3.
Once everyone has sent in all their pages I will zip them all out within 1 calendar week.
Good luck, and I can't wait to see what you make!